Make your own free business cards, I can't do that. Yes, you can. It can be easy if you know how. So let's jump right in before you change your in 🙂
Main equipment needed
Your computer
A printer
Some nice white thick card (150 – 200gsm)
Sticking with the basics for this tutorial, I'm not going to delve into design concepts, colours and font styles for that a whole another post. Plus for inspiration, you can check out the search engines for help.
However what I will say though is, keep it uncluttered, if you have trouble reading and understanding it, then guess what so will everybody else.
To make your own business cards, you can use the Microsoft Office Publisher software. If you have Microsoft Office (for word documents) and Microsoft Excel (for spreadsheets), then you should have Microsoft Office Publisher for it comes as part of the Microsoft Office package.
Never seen this Microsoft Office Publisher thingy, don't even know where to start looking for it. No worries I got you.
Finding Microsoft Publisher on your system
Take a look in your start menu and click the Microsoft Office folder. I'm using Vista so I have to click the windows icon to start. All start menus should be located in the left hand bottom corner of your screen, on the toolbar. Unless you moved it elsewhere.
Now, click on all programs and click the Microsoft Office folder. Once that folder is open you should see Microsoft Office Publisher, click on it to open the software.
When the program is open you will see this: (I'm using Microsoft Publisher 2003)
Screenshot 1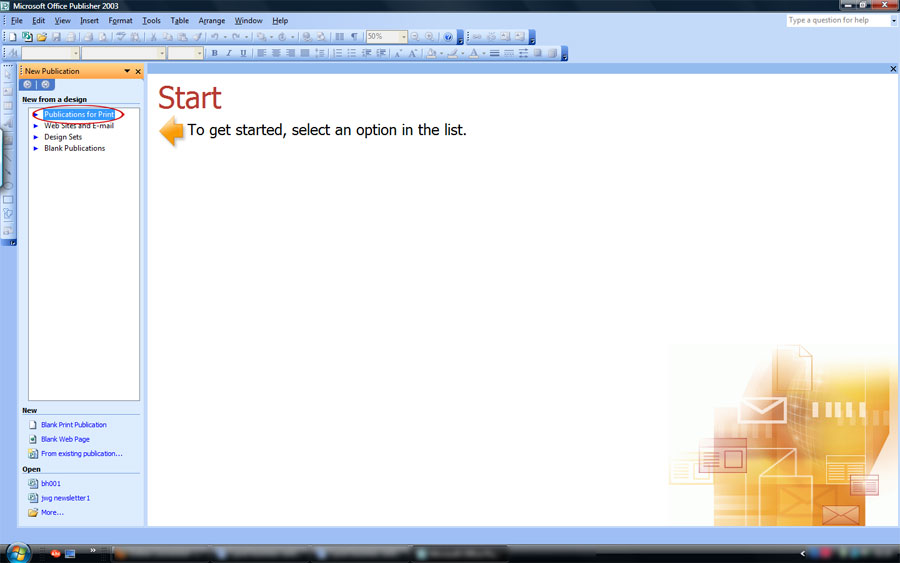 Now that you've got here, you can start to make your own free business cards
To the left of the arrow you have a list of different sets of publications:
• Publications for Print
• Websites and Emails
• Design Sets
• Blank Publications
Click on the first one – Publications for Print – this will open up a list of different publications that can be printed
Scroll down until you see the title business cards, and then click it.
You will see another list but you can view the both list documents from the main window.
Screenshot 2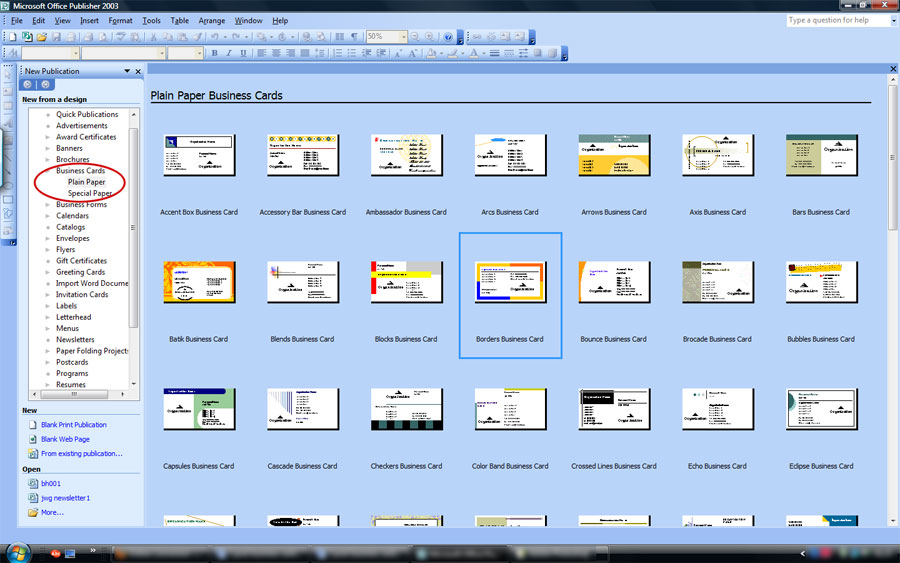 From here you can browse all the business card styles they have. You may want to open some by just clicking on the design you like, to see what it looks like close up.
When you open a design, from the left menu you are given options were you can change the colour scheme, the font scheme, insert a logo if you wish, change the orientation of the business card, and it also gives you the option of printing one or multiple business cards to a page.
Screenshot 3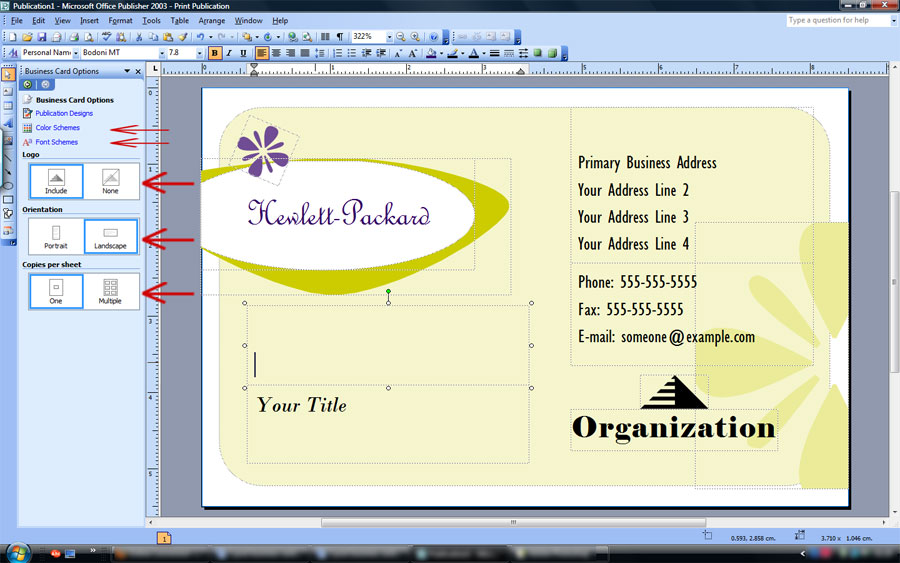 Experiment with the designs, colours, and layouts and make your free business cards. If you decide to put information on the back then save the front design and then save it again calling it 'back of card' or something to that effect. Then delete all the parts you don't want to include on the back and insert what you do want.
When it's time to print, print the front of the business cards first then re-open the file of the back design, remember to flip over your printed sheet to print on the back.
Depending on your printer watch which way the printer prints out the front design, this way you will know which way to flip the card so you print exactly on the back and everything lines up correctly.
Then all what's left to do is cut them out, I would advise you to use a scalpel or Stanley knife. By all means use scissors if you prefer but if you don't have a steady hand then it will show on each of your business cards and you want people to look at your business information first not the uneven edges of your business cards.