Make your own free business cards online. With today's technology, you can find websites that give you the control of creating your own business cards for free and all you need to do is decide how you are going to print them.
I have rated them from 1 to 5, (5 being top notch).
Free Printable Business Cards.net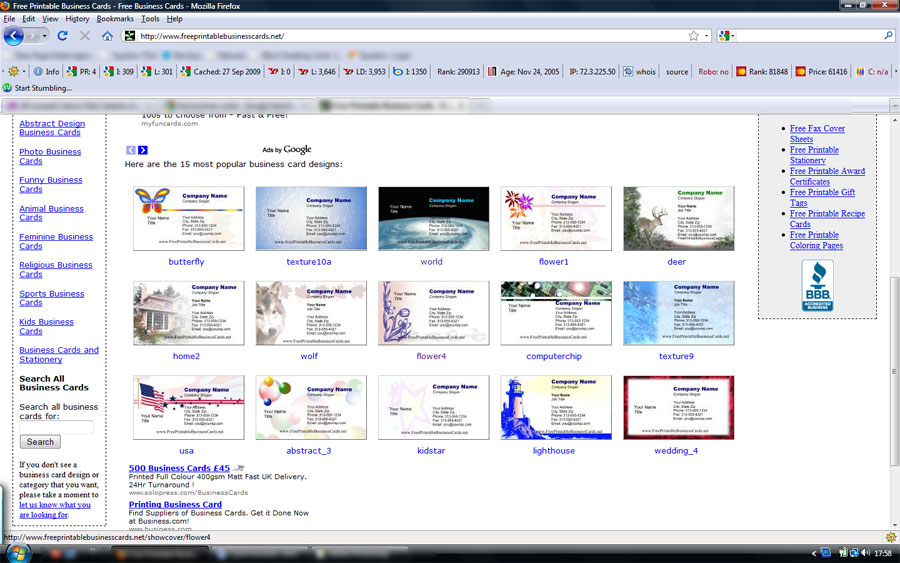 Offers 260 free business card design templates to choose from. Once you find the design you like, click on the image to see an enlarged version. You will have to accept their terms and conditions of usage. You have the option to either download the free version template, which will have the text 'www.freeprintablebusinesscards.net' printed at the bottom. The paid version does not have their advertising text at the bottom and costs $3.00 which you pay via PayPal.
Software needed is: Microsoft Word (.DOC format) Rate: 3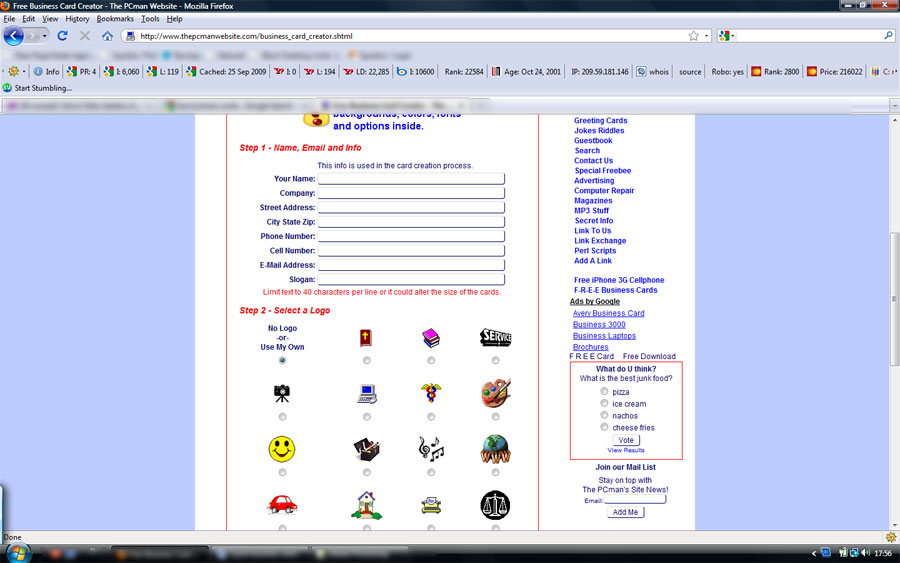 This website has a freeware online business card creator, which allows you to create then print your own business cards. You can use your own images or one of theirs, select the typeface and text colour preference, you can even choose from different backgrounds for your business cards. Making a business card on this site is pretty simple to do, just follow the numbered instructions at each step. When you have finished you can either save the file to your computer or add it to their business card directory. The only drawback I can see is that the images they offer are very childlike and may not be very professional looking. Plus I can't see what program you need to print with. It talks about using your browser options. If you do try this option do a test run first to see if its right for you and you get the results you want.
Software needed is: unsure Rate: 1
Southworth offers 3 business card templates for free. Pick which design you want and click the template link. You can either save the file to your computer or open it straight away. All you have to do once the file is open is add your details and print. To use the other side of the business card, just save the file and then save it again with a different name and amend the details for what you want to show on the back. When you come to print remember which way the sheet comes out so you know which way to flip over the paper to print on the back. You get 10 business card to one sheet.
Software needed is: Microsoft Word (.DOC format) Rate: 2
Free pdf cards give you one main screen to work from. You can see the preview image of your business card to the left and you fill in your details to the right. You can also upload your own image or logo. Every time you make changes to your details click preview to see the changes. When you are happy click download and you can save to your computer or open the file straight. You get 12 business cards to one sheet, it's quick and easy the only drawback is that the design is very basic. However, you can spice it up by using some really nice textured card.
Software needed is: Adobe Reader (.PDF format) Rate: 2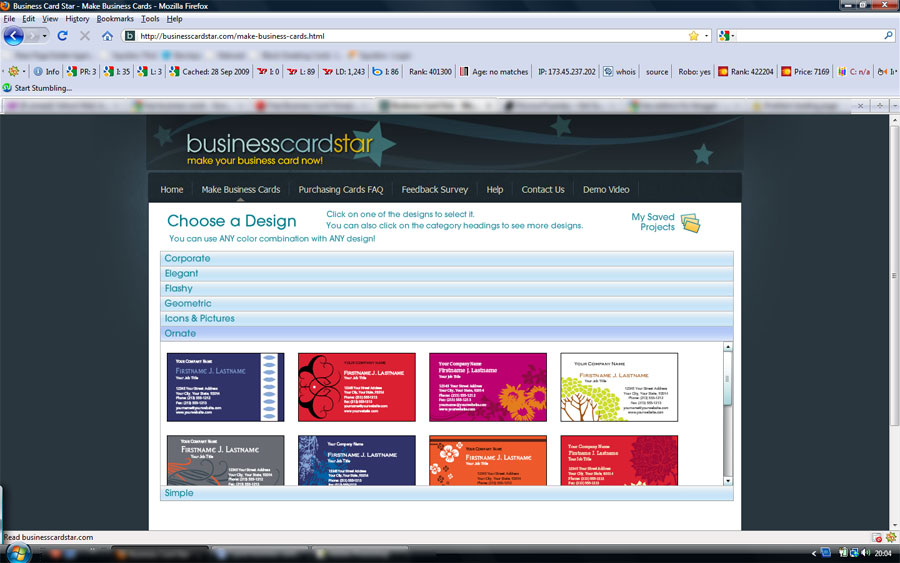 Business Card Star is pretty impressive for a free place to get business cards. The process is simple and clear set-out, very professional looking. You can register or not registering just allows you to save your details. You have 88 business card templates to choose from which is divided over 7 categories: Corporate, Elegant, Flashy, Geometric, Icons and Pictures, Ornate and Simple. Each menu provides you with an array of options to personalise your business cards. Here are the menus:
Enter your business card information
Colour and text menu – you can change the template design colours and mess around with the size and style of the text. When you click next a mini horizontal window will open showing you options for the back side of your business card. When you have chosen, you will return to the Colour and text menu, where again you can change stuff.
What country are you located in the menu: Is this cool or what it allows you to choose from USA, Canada, Other Country.
Choose your format: paid version or print at home option.
Layouts for home printing: you can choose between either 8 or 10 business cards to a page. Click the one you want and it will pop open. (If you have pop-ups set to not allowed then you will be asked to allow for this site.) Then save the file to your computer and print away.
Software needed is: Adobe Reader (.PDF format) Rate: 5
Canva is a pretty impressive site. Their business card creation service is super simple and has a load of elements to choose from. You don't need to be a designer but by the time you have finished creating your business card, people will think a professional created them.
You get to choose from the many layouts of the business card free and paid versions.
Text section allows you to add a simple default text for you to change. Plus they offer pre-designed text arrangements that will match whatever industry you are in. All you need to do is change the text to what you like.
Background: You get to change the overall background which is great if your layout has a lot of white.
Uploads: You can upload your own images from your hard drive, from Facebook or from Google Drive
When you are finished you can download either as an image or a high-quality PDF. Read for printing.
Software needed:  Adobe reader if you download as a PDF Rate: 5