Today's Feature Friday was submitted by Lauren Keplinger business owner of Funky Monkey Embroidery. Lauren had me oooh and saying "That's so cute" over and over again. If you got kids be prepared to want to buy everything, even if they are teenagers :). Her products have lovely designs and she also offers a personalised service relating to adding your babies name.
Monogrammed Baby Burp Cloth and Personalized Bib Set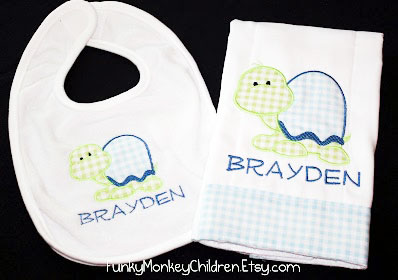 Monogrammed Baby Boy Tie Onesie Chevron Burp Cloth Bib Gift Set - new baby shower gift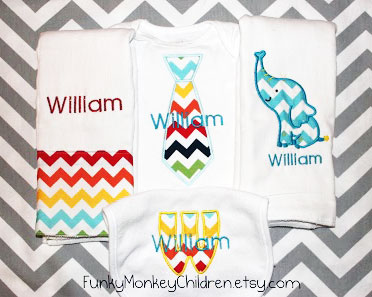 Monogrammed Girl Owl Onesie, Burp Cloth, Bib Set - Baby Girl Owl Set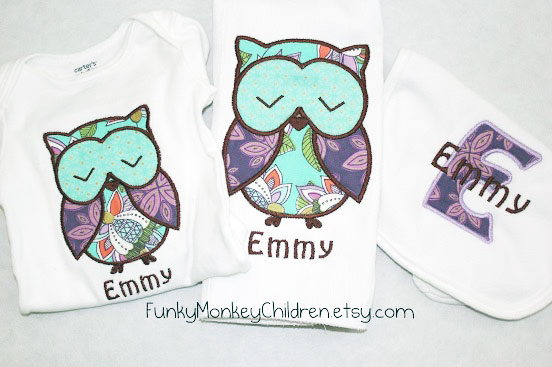 Monogrammed Burp Cloth and Bib Set - Monogrammed with Appliqued Initial and Name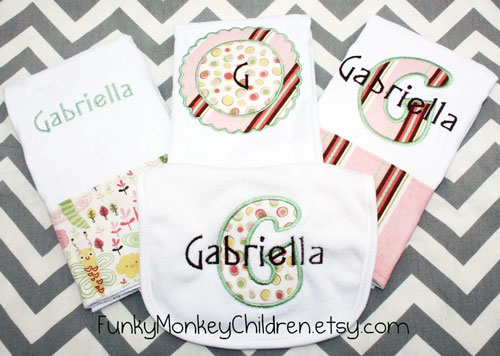 Your Business Name: Funky Monkey Embroidery
Your business url: www.funkymonkeychildren.etsy.com

Your name: Lauren Keplinger
Where you live: Richmond Hill, GA
Tell us about the person behind the business:
I am a mother of two young children (ages 19 months and 4 months) and wife to an amazing soldier in the US Army. In my free time I like to create new crafty things for my children, bake, and run. I love working in a creative industry because I have an outlet for different ideas that I want to try. My favorite part of having my Funky Monkey Children's store is working together with customers to create a custom order and bring their idea to life.
What inspires you?
I am inspired by current fashion trends and colors, as well as the seasons and animals around me.
How did you get into starting your handmade business?
I got started in my handmade business last September while I was pregnant with my second child. I had gotten into embroidering and making appliqued items, and wanted to take it to the next level by opening my own Etsy store.
A list of items you sell
burp cloths, bibs, onesies and t-shirts.
Your Twitter link: twitter.com/funky_monkey01
Facebook: https://www.facebook.com/FunkyMonkeyEmbroidery
Share your comment to continue the conversation, I'll see you below...
When sharing your suggestion, feedback or insights, you are very much helping others on a similar journey as yours. We don't all have the answers but when we pull together and help one another, its truly a blessing.
I appreciate you for reading, watching and joining the conversation. I'm super happy you are here sharing your wisdom and truth with us all.