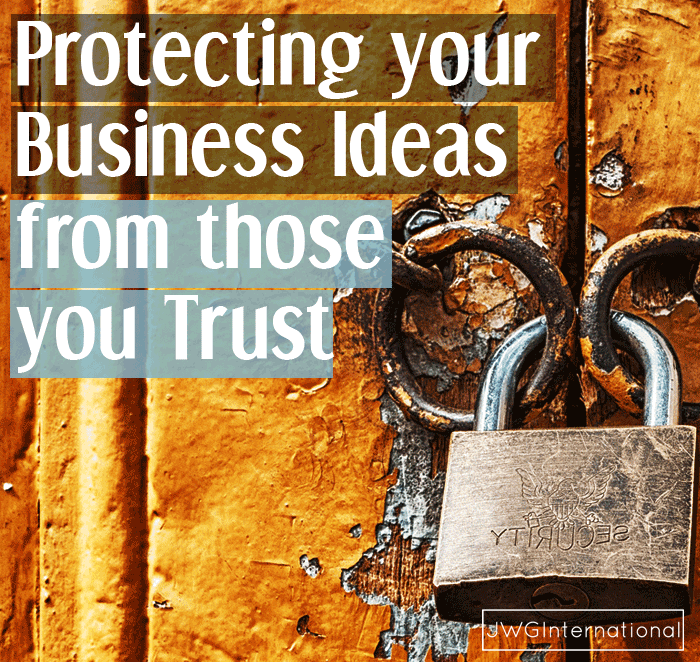 I was hoping I would never have to write about this topic because it's a hard one. Plus we all would like to believe it would never happen.
I have always been protective of my business ideas when it comes to talking to other professionals. But just like you I am as open as a butterfly when sharing my ideas with friends and family members because I trust them.
This is why this topic is a hard one to write because we love our family and friends. So to think that by sharing private business ideas with someone you love and trust, who would listen, agree and then steal your idea is unthinkable. Well, it is real, it can happen and it does happen, unfortunately.
Don't underestimate the power of a great idea, when another person has none but wants to start a business like you. The last thing on your mind is safeguarding your ideas when you are so excited & just bursting at the seams to share.
We will continue to, not think of those we trust betraying us until it actually happens. However saying that it has happened or it's happening right now to you, so as hard as it may seem, it's now you have to be extra professional.
Before I share 4 ways of protecting your business ideas, I do want to say this:
Those who do steal other people's ideas are disrespectful. It wouldn't be any easier to deal with if it was a stranger who did the dirty deed but at least you may not see them again. But when it's close to home and someone you know that's when it cuts really deep. The worse case I do believe is when your family member or friend comes in on your business idea as a partner & then decides to go their own way with your business idea too. So now that person has not just disrespected you by taking your idea, but now they are effectively your competitor.
With that in mind let's look to protecting those business ideas.
1 Before you talk, think
Don't share all your ideas details. Easier said than done I know, but you do have to try and get your mind into gear before opening your mouth. If this idea is your future, then you have to think hard before sharing.
2 Be careful who you go into business with
It's great when you share your idea with a family member or friend & they too get excited by it, to the point that you both decide to become business partners. There are some questions you should ask before leaping into a partnership due to the excitement.
- What can he/she bring to the table apart from being your relation or friend
- Is your vision & goals for the business theirs too?
- How would you feel about accepting changes from your new business partner
- What happens if both parties disagree on a decision, how will it be sorted?
3 Get Legal
If you still decide this business partnership is what you really want, then all that is left is to get legal. Get solicitors involved, get contracts drawn up, get it witnessed and signed, simple.
This is not a game, it's your life, your future so getting legal right out of the gate is the right thing to do. Either you get the contracts drawn up or you both decide on what happens if either of you wants out. No matter how many points it takes, list them all, even the scenarios you think may not happen. Its better to be safe than sorry. It's a lot to think about but it needs to be done.
4 Victim + Strength + Head held High = U Win
Last but no means least, if you do get your business idea stolen be ubber professional. I know you want to do a wresting move from the high ropes but losing your cool is what we don't want you to do. All acceptable emotions however it's now you need to have a level head to take your next steps.
Ya need to evaluate where you are, what they have taken & what you need to do in order to get your business idea back on track your way.
Round up..
It's a horrible position to be in, however it's not uncommon. Be prepared before you share and if your business partnership does breakdown and there's no legal contract in place, grit your teeth and build up your business. You have the advantage, you had the idea, you developed it & saw it grow & you can see the final goal.