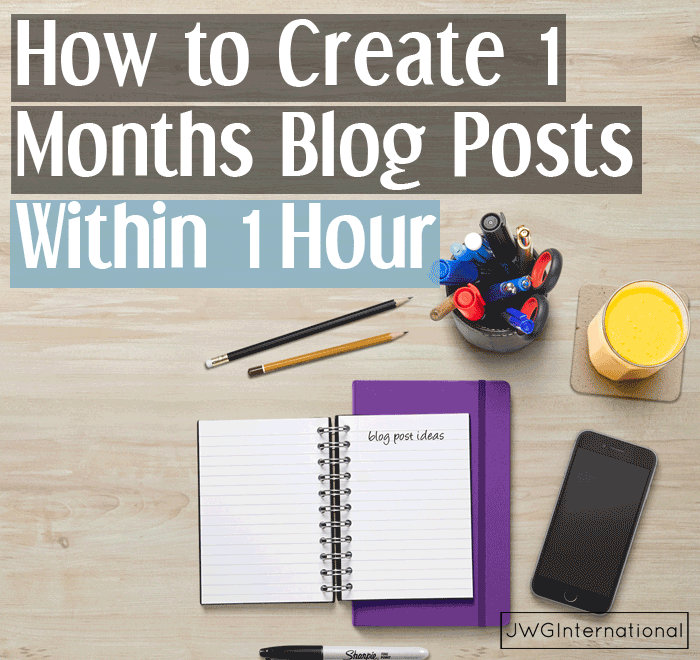 Today's post is a video post, you don't have to watch, You can listen to me talking away in the background.
This post is for you if you are fed up of blogging the night before its needed. You know the routine, you write down that you need to write a blog post on your to-do list. However, that task never seems to get crossed off until the night before.
We've all been there, proof-reading in your pj's with a big mug of hot chocolate in hand, hoping there's not too many mistakes because you need to press publish and go to bed.
Well I'm here to save the day
I'm going to give you 4 blog posts that you can turn into 1 month of blogging and they will only take you 1 hour to complete - no really I'm not kidding.
These 4 blog post ideas can be used over and over again. When you hear what they are you will say "Why didn't I think of that".
Click2Tweet: Create 1 Month of Blogging within 1 hour Janet shows you how
If you can't see the video click here to watch.
In the comments I would luv for you to share:
1 - Are you going to do this 1-month blogging strategy
3 - If yes - Which one are you going to start 1st
4 - If no share, what your next blog post be about
Share your comment to continue the conversation, I'll see you below...
When sharing your suggestion, feedback or insights, you are very much helping others on a similar journey as yours. We don't all have the answers but when we pull together and help one another, its truly a blessing.
I appreciate you for reading, watching and joining the conversation. I'm super happy you are here sharing your wisdom and truth with us all.