John Lewis Online Sales has been in the media quite a few times. which was interesting. Think about it these big companies have huge marketing budgets to work with. They have employees who work for them across various branches. They have to protect their brand and keep it consistent yet try and be flexible whenever possible. So whatever strategy they implement, whether it's a success or not, it wasn't a decision made lightly.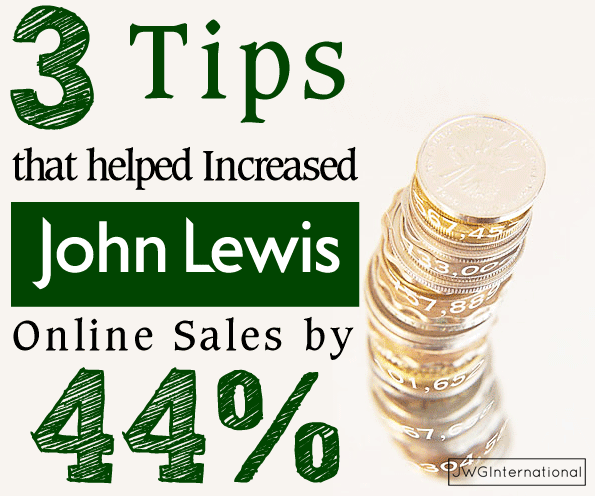 When you see on the media of company profit increased, do you say "lucky them, I wish I had some of that" or are you thinking, "I wonder what they did to achieve that"? I am more so of the latter.
I can't get enough of what other big businesses are doing.
Listen many are sharing the very strategies that cost them hundreds or thousands of pounds to implement. Most of the time you can do it for free. We buy from these companies, they spend huge amounts of money to market to us, so we will buy buy buy. We as business owners should listen keenly and adapt some of what they do, in our businesses. Of course, don't throw your ethics out of the window, just remember everything in life can be adapted to fit.
The original article I read called 14 reasons behind John Lewis' 44% increase in online sales had 14 points. However, 3 of them stood out straight away. As it's these 3 points that you can very much do for your business, straight away.
Tip 1: (article point 2)
Well designed product pages
John Lewis' product pages are by no means perfect, but they do tick several of the boxes for best practice. For example, it has excellent product descriptions (details of the 64GB iPod Touch runs to 443 words), recommendations based on what other customers viewed, delivery costs, stock information and cross-selling of related items. All these are excellent features that help customers to make an informed purchase decision. [Quoted from Article]
What you can do: Are your product pages speaking to your customers. It's one thing sharing the features of the products. But are you sharing the benefits of your products? Why should they buy this product? What will they get when they do? How will they feel when they do?
Answer these questions and you are talking to your customer's emotional side. Are you sharing your past customer's feedback? I know it's common to have a praise page where you can collect all your customer positive feedback. However, if you have a store on a marketplace having your positive feedback on the same page of a similar product is the next best thing.
Tip 2: (article point 3)
Consistent site navigation
Not all traffic to eCommerce sites comes in through the homepage, much will arrive directly at product or category pages, so navigation should be consistent so that people can find their way around the site from wherever they happen to be. [Quoted from Article]
Goes without saying your navigation bar is mega important. If customers can't find what they are looking for easily. They will simply leave. Also, as the article says, most customers won't come through your homepage, so keeping your navigation consistent is a no-brain.
Also, don't worry if you don't have a top navigation bar it's not a must. Off the top of my head, Amazon & Ebay come to mind, who don't have a top navigation bar they have there's on the left-hand side. An important part of your menu items makes sure they are above the fold, meaning in the top half of your site. Your customer should not have to scroll down to find your menu bar. Plus don't make your menu item too long, if you have a lot of items separate them down.
Tip 3: (article point 13)
Christmas actions that work all year round
Data from Experian shows that shoppers began searching for sales early this year, so it was important that retailers matched this need by launching their sales before Boxing Day. On Christmas Eve and Christmas Day one in every 125 searches conducted in the UK including the word 'sale' or 'sales'. The top sales search term was 'Next sale', followed by 'Debenhams sale', 'Marks and Spencer sale' and 'John Lewis sale'. In fact, managing director Andy Street revealed that Christmas Eve was the retailer's single busiest online shopping day ever. [Quoted from Article]
They started their sales early. This point is based around Christmas 2013 but the action taken can be used all year round.
Even John Lewis is using free search engines to see what people are searching for. If people are searching for John Lewis sales by actually having a sale before Christmas and targeting those exact keywords. You know that the people who are searching for those terms are not browsing customers, they are buying customers.
Use your product keywords and see what variations of your keywords are being used in the search engines. Then add those keywords to your products descriptions and get those targeted customers to your products pages.
As you can see big-time, John Lewis tweaked and did some tasks you can easily do for your business. It's very easy to be blind when you are buying from others. But try to stop and see why you are parting with your cash. Was it the words you read, pictures you saw, a radio commercial you heard? Everything you hear that makes you want to part with your money should be looked at, as a new method you could potentially add to your business.
With that said thinking of your last purchase whether online or offline, share in the comments what it was and why you brought it. Even if it was food, why choose that food over others.
I will start. My last purchase was 4 Belgium buns each priced at 32p. I bought them because they were marked down from 65p. I don't like them but I brought them for my son and cousin. I love a bargain so 50% off food is hard for me to pass up 🙂
Your turn..