Today's Feature Friday was submitted by Kathy Grundy business owner of LumieDesign.com. Kathy specializes in using laser cut techniques on wood, paper and more. The delicate details Kathy produces on her work is just amazing. You will be spoilt for choice when you go visit her shop and website, so you will be there a while so be prepared.
Bubble laser cut bracelet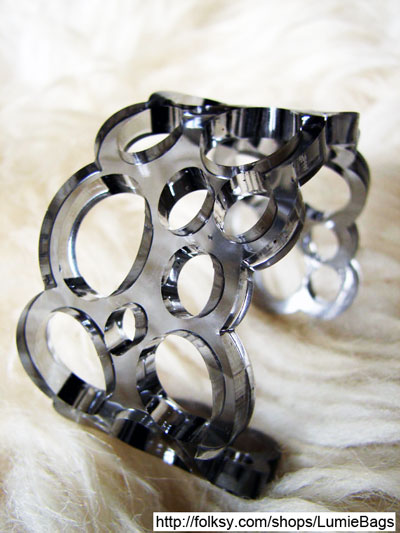 Home Design- Laser cut framed art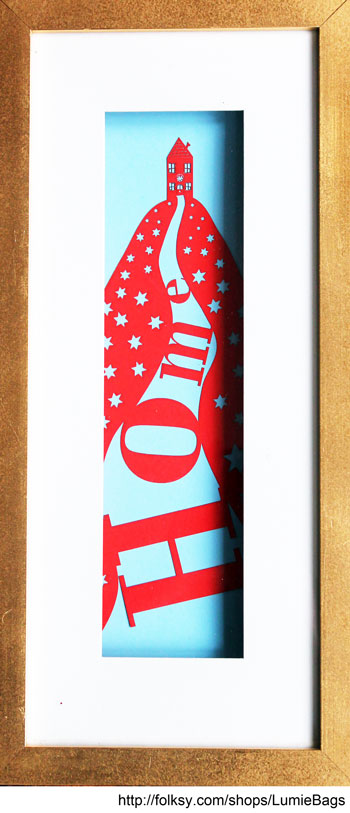 Little Nerd Card

Name Plaque for Nursery or Bedroom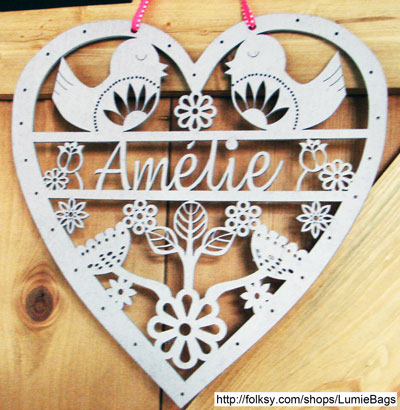 Your Business Name: Lumie Design
Your business url: www.lumiedesign.com
Your blog url:  http://lumiedesign.com/#/blog/4568138108
Your name: Kathy Grundy
Where you live: North Devon
Tell us about the person behind the business:
A former adult educator (literacy/numeracy) who left the rat race after having a second child (14 year gap after the first but hey ho!). I was persuaded to buy a laser cutter by my artistic/techie husband and after a bit of kicking and screaming have finally fallen in love with it. I love to cut and engrave almost anything.
What inspires you?
Everything around me- my sewing teacher and fellow students, nature to glossy magazines to people in the street. I can often be seen staring at people trying to figure out how their bag was made or looking at the pattern on fabric. Weirdo, I know!
How did you get into starting your handmade business?
Well I started up a knitting club with a friend. I couldn't knit and she could. She led the knitting and I did the advertising/computer side of things. I realised that I would never be at one with knitting needles no matter how hard I tried so I gave it up when one of the knitters told me about a great sewing class. So I went along and from that class I met some amazingly talented crafty people who inspired me to make and sell. This gave me the confidence to give laser cutting a really good go and I needed to start earning some money as leaving my job after having my baby girl meant the household income halved.
A list of items you sell
Paper cut art, personalised cards/framed laser cuts, greetings cards, mobiles, bag handles, acrylic jewellery, fabric bags, lamps.
Your Twitter link: twitter.com/Lumiedesign
Facebook: www.facebook.com/LumieDesign